Daily affirmations are a great way to build your self-confidence and self-esteem. They can also help you unlock your true potential by helping you achieve your goals and fight off negative thoughts. To make it even easier, we've created a FREE printable affirmation cards PDF for you to get started today by increasing your positive thoughts. You can print them out or save them on your mobile phone to read on the go whenever you need to access this powerful tool. Find them at the bottom of the post.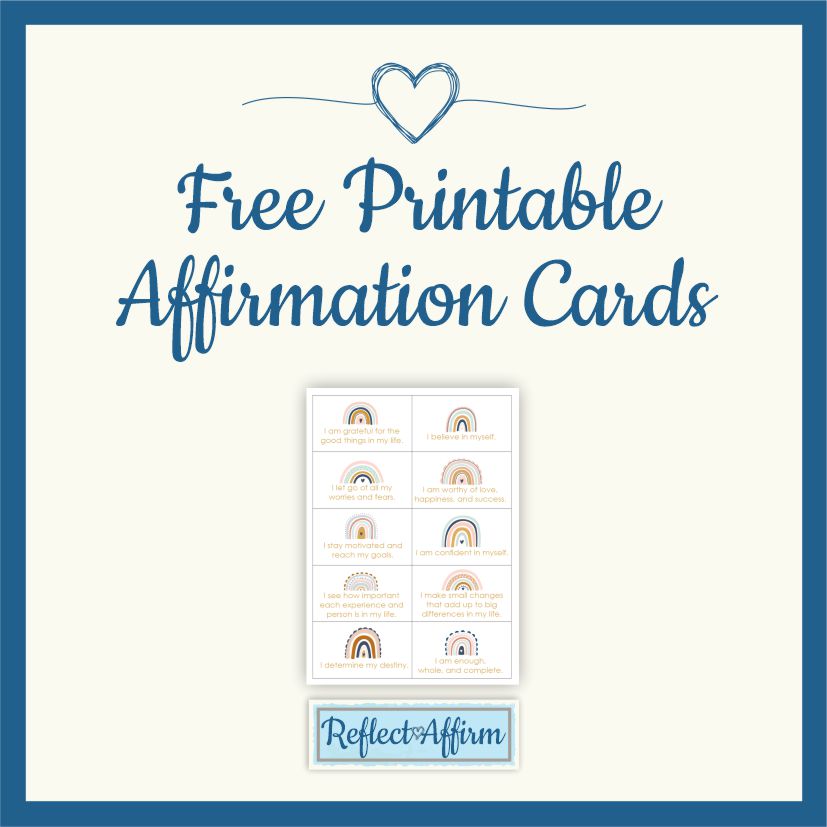 Just like it's important to have goals, it's also important to set reminders of these goals. One common strategy is to print out daily positive affirmations onto business card templates and carry them around with you in your wallet or purse to read whenever you feel yourself slipping off track. Try sticking to your positive thinking by posting affirmations on your bathroom mirror.
How Does the Free Printable Affirmation Cards PDF File Work?
All you need to do is take these three simple steps to access the list of positive affirmations:
Sign up to download the freebie at the bottom of the post.
Open the PDF on your phone or print it (we recommend printing on card stock paper).
Use the positive affirmations throughout the day as part of your daily routine to remind you to stay focused on your goals and your success.
When Is The Best Time to Use These?
You can use these free printable affirmation cards PDF when:
>> you are having a bad day.
>> you need reminders to stay motivated and focused.
>> you need to change from a negative to a positive mindset.
>>you need to stop all the negative self-talk.
>>you need to support your goals on body positivity on a daily basis.
>> you need to unlock your true potential.
Anytime you are looking to improve your personal growth through a positive attitude!
Have a vision board? Add these calming affirmations to ensure that you have a great day today and as your look to your future.
What Healthy Mental Health Skills are You Working on with These Visuals?
The printable affirmation cards PDF help you to develop confidence, motivation, self-worth, self-esteem, and self-love. Build confidence and foster a growth mindset when you use this kind of positive self-talk. Kids of all ages will like the simple statements – perfect for teen affirmations too!
Remember the good news – these are free to print and incorporate into your daily life.
FREE Printable Affirmation Cards PDF
The free printable affirmations are positive and uplifting with the following statements:
I am grateful for the good things in my life.
I believe in myself.
I let go of all my worries and fears.
I am worthy of love, happiness, and success.
I stay motivated and reach my goals.
I am confident in myself.
I see how important each experience and person is in my life.
I make small changes that add up to big differences in my life.
I determine my destiny.
I am enough, whole, and complete.
Want to write your own affirmations? You can use this PDF here to include your favorite affirmations and make print-ready files for yourself.
Let us know if you have a positive experience with the free printable positive affirmation cards. Send an email or reach on social media. I am truly hopeful that this is an easy way for you to explore the power of affirmations.
Need More Positive Affirmations?
View FREE Affirmations here to get started today on building a better you and unlocking your true potential.
If you or someone you know is having a baby, check out the birth affirmations printable.
Prefer to listen to your positive affirmations? Download your FREE MP3 file of positive affirmations here.
Download your FREE Printable Affirmation Cards PDF Here
Thank you for your interest. Sign up to receive the weekly email newsletter and other announcements from Reflect Affirm. You will be redirected to the freebie. If you can not see the sign up box, email us at [email protected] and reference this freebie.