We all get stuck in our ways. We develop favorites and habits. But there's a reason why it is important to try new things: it helps you learn about yourself and others, keeps you flexible in the face of change, develops your skills and opens doors to adventure. So what are you waiting for? Here are some thoughts on why it is important to try new things and how to get started!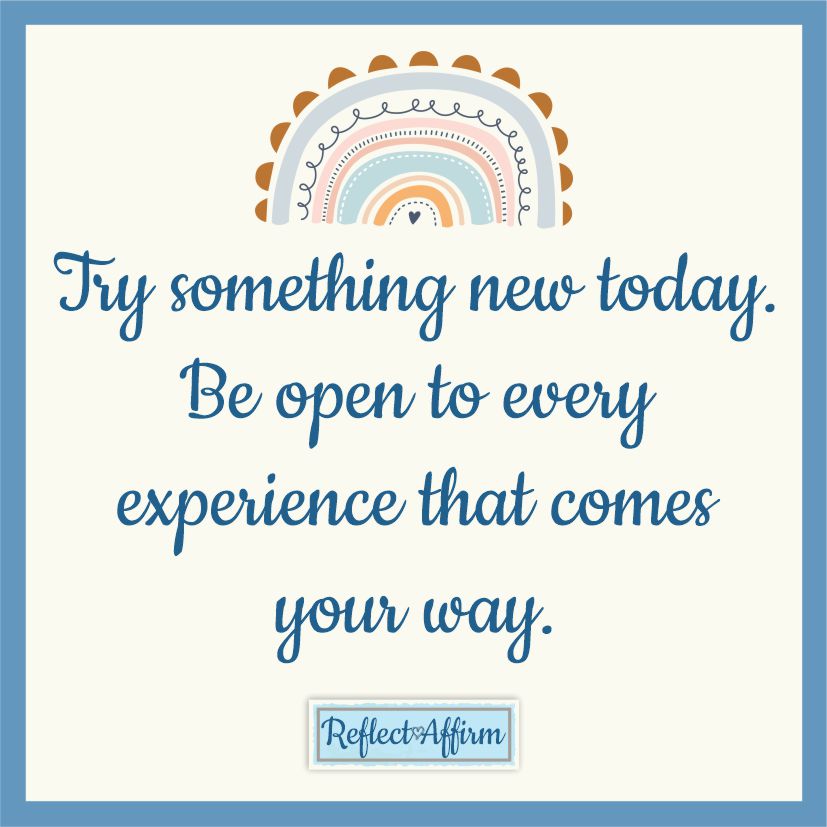 Try new things to learn more about yourself
Don't be afraid to try new things, especially if it's something that you want to learn more about. Sometimes the best way to learn more about something is to try it. You can find your own path enjoying each day to the fullest.
Making the effort to try new things strengthens your ability to do so many things better next time. In addition, you will learn more about your own likes, dislikes, and preferences. This type of exploration can open up new doors for you in your career, at home, and your social circle.
Why is it important to try new things? It will help you to develop skills that make you versatile and valuable to others.
In the long run, your most important asset is your ability to provide value to others. You should build your skills so that they're valuable to a wide variety of other people. We build our talents through exploring new ideas and learning from these opportunities.
Be adventurous and explore the world around you
It's easy to get caught up in your everyday routines and miss out on the amazing things that the world has to offer. Take time to explore new places and things. Be adventurous and do something you've never done before. You'll be amazed at how much you can learn from the world and new cultures.
Try new things for fun rather than as a chore
Change your mindset when you answer the question: why is it important to try new things. Instead of being fearful or anxious, think of all the positive changes that come from new adventures and opportunities. Build your confidence as you will learn new skills, meet new people, and make amazing memories!
Positive Affirmation on Why It Is Important to Try New Things – I am open to new experiences.
Be open to these new adventures. Begin changing to positive thoughts with this free positive affirmation, I am open to new experiences. Find a quiet spot to read and reflect with this affirmation – I am open to new experiences.
New experiences excite me. I am always interested in trying something new. Whether it is a new food, travelling to a new location, or listening to a new type of music, I am an enthusiastic participant. I am open to new experiences.
I believe that variety is the spice of life. I want to experience as much as possible during my time on Earth.
I avoid falling into a routine that prevents me from experiencing all the variety that the world has to offer. I want to sample it all during the time I have.
I want to ensure that I have seen, done, and experienced everything that interests me. I believe that a life fully lived is rich, varied, and bold. I am committed to living this type of life. I embrace the opportunities to live this type of life.
I am a curious and open person in general. I want to know more. I want to see more. I am open to new people, cultures, and ideas.
I am interested in looking beyond my regular daily life.
Today, I am keeping my eyes and options open. I am determined to have at least one new experience today. I can always create an opportunity if one fails to present itself to me. New experiences are my exciting new path in life.
Self-Reflection Questions on Why Is It Important to Try New Things:
What is the most interesting new thing I have done in the last year?
What are some new experiences that I would like to have that are within my reach?
How can I use my gifts and talents to introduce new experiences to other people?
Get FREE Affirmations to Practice How to Reprogram Your Mind for Positive Thinking
View FREE Affirmations here to get started today on building a better you and unlocking your true potential.