We all can relate that Monday mornings can be tough. Weekends can be relaxing and enjoyable and then along comes Monday sinking you into a negative attitude. Work on changing your mindset with this positive Monday affirmation.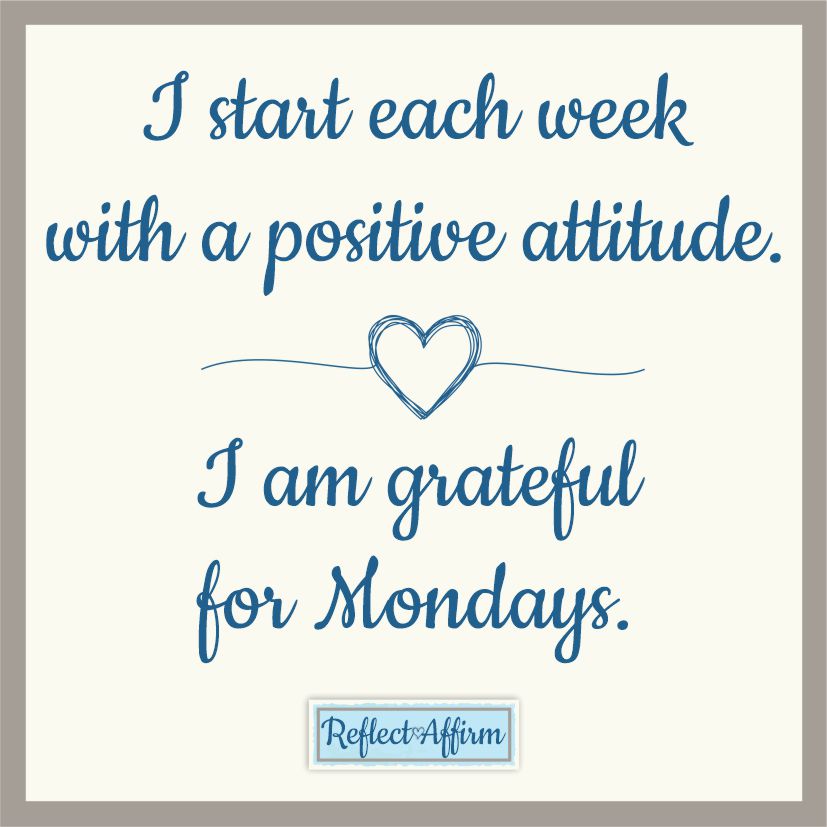 By using a positive affirmation for a new week, you can set the tone and help to improve your mood.
Monday Morning Affirmations
Find a quiet place to read and reflect and slowly go through this Monday morning affirmation:
I start each week with a positive attitude. I am grateful for Mondays. I wake up early to enjoy the morning sun and a hot shower. I set my intention to find joy in today and every day. I am alert, focused, and productive today!
I eat a nutritious breakfast. I drink water. I make my commute more productive and enjoyable. I bring along an educational podcast or book.
I take breaks while I work. I am happy and more productive when I allow myself adequate downtime. I go out for a walk at lunch. I do simple stretches at my desk. I chat with my coworkers in between meetings.
I spend time outdoors. I drink tea or play with my children in my backyard. I attend a concert in my local park.
I exercise my body and mind. I visit my gym or work out at home. I play word games and engage in stimulating conversations.
I express my gratitude. I make a list of my blessings. I thank others and let them know when they make a difference in my life.
I look for opportunities to help make others happy. Giving generously strengthens my relationships and make me feel connected.
Today, I take responsibility for my attitude and actions. I make each day of the week, including Mondays, meaningful and successful. I use Mondays to set a positive tone for the rest of the week.
Self-Reflection Questions for the Monday Affirmation:
What is one thing I can do on Sunday night to make Monday morning easier?
If I were designing a Happy Monday greeting card, what would I say?
Why is each Monday like a fresh start?
View more FREE Affirmations here.

Positive Daily Affirmations to Listen To – FREE MP3 File
Daily Affirmations for Success