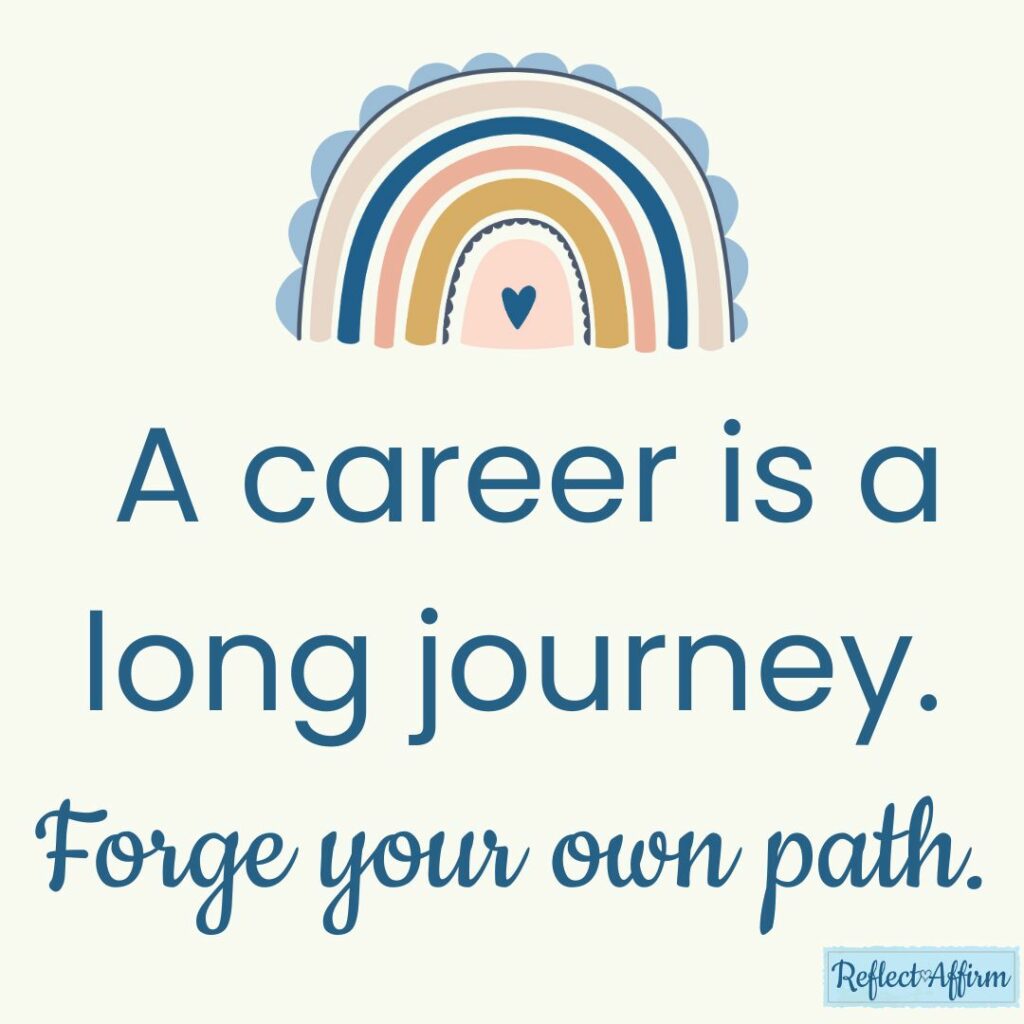 Career affirmations are a powerful tool that can shape your professional journey and bring about desired changes in your work life. They can replace negative thought patterns with positive ideas, transforming your mindset and bringing you closer to your career goals. In this blog post, we'll explore the transformative power of career affirmations, how to use them effectively, and offer a robust list of career affirmations that can lead you toward career success.
Understanding the Power of Career Affirmations
Affirmations are positive statements that we repeat to ourselves, aiming to challenge and overcome negative self-talk. When applied to our professional life, career affirmations can result in a powerful impact on how we perceive our jobs, careers, and opportunities.
These affirmations serve as an effective tool in the quest for a positive mindset, which in turn is a valuable asset for navigating the sometimes treacherous waters of the professional world. They foster positive thoughts and emotions, setting us up for career success by clearing the path of any negative thoughts. In essence, they form an integral part of your daily routine for a mental boost.
To find more affirmations related to your career, read here and here. For teachers looking for affirmations, check this post. Looking for a new job? Try these affirmations.
50 Positive "I Am" Career Affirmations for Success
I am in control of my career.
Every day brings new opportunities for growth and success.
My hard work and perseverance will pay off.
I am open and ready for new career opportunities.
My positive attitude leads me toward my dream career.
I am worthy of success in my job.
My career path aligns with my personal life and goals.
I am at the right place at the right time for the perfect job.
I am confident in my abilities and skills.
Each day, I grow stronger in my career.
I handle stressful situations with grace and professionalism.
I am the ideal candidate for my dream job.
My work brings me joy and satisfaction.
I have a successful career that I love.
I am always learning and growing in my career.
I attract the right people and the right opportunities into my professional life.
I am embracing the next step on my career path.
I am courageous and stand up for myself in my career.
I am making a valuable contribution to my workplace.
I am reaching my full potential in my career.
I am focused and persistent in my job search.
I am worthy of a fulfilling and rewarding job.
I am creating the career of my dreams.
I make decisions based on the superstar I am becoming.
I am confident in my career change.
I am prepared for my successful job interview.
I am advancing in my career.
I am embracing new challenges in my work.
I am forging a path to success in my chosen profession.
I am proud of my career achievements.
I am a valuable asset to my team.
I am committed to achieving success in my career.
I am creating the career I love.
I am a magnet for career opportunities.
I am growing professionally every day.
I am grateful for my job.
I am creating a work life that brings me happiness.
I am positively contributing to my workplace.
I am confident in my career decisions.
I am respected and appreciated in my work.
I am ready for a new job that suits my talents and passions.
I am achieving great things in my career.
I am deserving of a career that brings me satisfaction.
I am ready to take on new challenges and opportunities.
I am in the right career for me.
I am driven and ambitious in my career.
I am an expert in my field.
I am ready to move up the career ladder.
I am grateful for the career opportunities that come my way.
I am achieving my career goals.
50 More Positive Affirmations for Career Growth
Success finds me in my career pursuits.
Opportunities for growth and advancement are constantly coming my way.
New doors to success open for me daily.
The perfect job is out there, searching for me.
The right people are recognizing my skills and talents.
Every challenge I face strengthens my career.
Positive changes are happening in my professional life.
My work environment is a breeding ground for success.
Career growth and development are inevitable in my journey.
The career path I've chosen rewards me daily.
Each workday brings me closer to my career goals.
Promotions and career advancement are natural occurrences in my life.
Recognition for my hard work and efforts comes naturally and frequently.
Every step I take is bringing me closer to my dream job.
New and exciting career opportunities are drawn to me.
My abilities and skills are appreciated and recognized.
Career success and satisfaction are within my grasp.
Every challenge is an opportunity for growth in my career.
Rewarding work opportunities are plentiful.
Positive energy surrounds my professional endeavors.
My chosen career path provides me with fulfilling and inspiring tasks.
The perfect work-life balance is achieved effortlessly.
Opportunities for learning and growth present themselves regularly.
In my career, my hard work is constantly rewarded.
Rewarding career opportunities come to me with ease.
The respect and recognition I deserve are being given.
Professional development and career growth are constant in my life.
Greater career opportunities are unveiling themselves to me.
Every task I take on leads me towards greater career success.
Exceptional career growth is happening for me now.
My career rewards me with financial stability and personal growth.
The next step in my career is revealing itself.
My dedication and commitment are leading me to career success.
Success is inevitable in my chosen profession.
Work environments that inspire growth and happiness are attracted to me.
My career path aligns perfectly with my skills and passions.
The future of my career is bright and rewarding.
Positive changes are being made in my professional life.
My passion and dedication are leading me to a successful career.
Greater opportunities are being attracted in my career.
Financial abundance is a natural outcome of my job.
My skills and experiences make me a magnet for job opportunities.
The perfect career path for me is becoming clear.
Each day is filled with new career learning and opportunities.
My work is consistently recognized and appreciated.
A fulfilling career path is laid out before me.
My professional life is filled with abundant opportunities.
Rewarding and fulfilling tasks are a regular part of my work life.
My career choices lead me down the path of success.
Career advancement and success are naturally occurring events in my life.
How to Use Career Affirmations
The best way to use career affirmations is to incorporate them into your daily routine. Speak or write down your affirmations every day. The regular basis repetition creates a positive change in your subconscious mind, which can have a huge impact on your career growth.
Writing your own affirmations is also a fantastic way to make them more personal. Keep in mind that they should always be in the present tense, and have a positive tone. For instance, instead of saying, "I will find a great job," say, "I am attracting great job opportunities."
You could use affirmation cards or digital vision boards to reinforce the affirmations. Posting sticky notes on your bathroom mirror or your workspace, or setting reminders on your phone can ensure you see these positive affirmations on a daily basis.
5 Career Self Reflection Questions
In addition to affirmations, self-reflection is a great way to align your career goals with your actions. Here are five career self-reflection questions to help you in your career transition or for a better understanding of your current job.
What are my core strengths, and how can I use them in my career?
What are the areas I need to improve for my career growth?
How does my current job align with my long-term career goals?
What is my next step in climbing the career ladder?
What is the ideal job or career path for me?
The Impact of Career Affirmations
When you start your day with a positive mindset, dealing with the tasks at hand is easier. Starting your day with a career affirmation can lead to good day filled with productivity. Each affirmation serves as a reminder that you're in charge of your career and are capable of achieving your career goals.
Career affirmations can help in achieving a successful career by training your mind to focus on the positive aspects of your work life. It can also be an asset during a job search, new job, or a job interview, creating the right mental attitude. You can complete the short career affirmations to help too!
In conclusion, career affirmations are an effective tool that can positively impact your professional journey. Whether you are seeking a career change, new opportunities, or just looking to climb the career ladder, affirmations can be your guiding light. So, why not take the first step today and bring about a positive transformation in your career?
Remember, affirmations are more than just a short phrase; they are a commitment to yourself to strive for a better version of you, both in your personal and professional life. Make the right career choice with career affirmations today!